The Best Gay Escorts are listed here on Sleepyboy. Search below for Gay Escorts, Bi-Sexual and Transgender Escorts. Search for your favourite Rent Boy or Gay Masseur across the UK. We have Gay Escorts in London, Manchester and all Cities across the UK. Whether you are looking for a date, a Gay Massage or a Sauna Companion search below to find your favourite Rent Boy. This is the best Gay & Bi-Sexual Escort Directory in the UK.
Escorts of the Day
Welcome to Sleepyboy.com
THE UK`S LARGEST INDEPENDENT ESCORT DIRECTORY
NOW SEE ALL ESCORTS PHONE NUMBERS AND PHOTOS FREE
When using an escort site, how many of the escorts are real? how many are still working? and how many sites allow non active escorts to stay on the site even if they stopped working? some sites have over 1000 escorts, but how many can you contact....test it out! try other top sites and you will see ANYONE can say we have 1000 escorts, thats easy, but how many can you contact?
---
If an Escort does not login within 30 days, you will not see the profile
"you know that you can get in touch as we check you can"
Browsing the site is totally FREE or you can view ALL photos and ALL escorts details by joining as a member to the left hand side of this text.
For BETTER exposure escorts can upgrade their profiles by signing up and choosing one of the many packages we have on offer Basic, VIP, Silver, Gold & Platinum.
---
Furries and Pet Play!
The epithet "Furries" is a relatively new term, used to describe a subculture of people who like to dress up as animals, and give them anthropomorphic traits. For the sexually curious and those that love to role play this is something to try! Gay Escorts love to dress up for you and are happy to engage in role play activities, check out the guys on sleepyboy.com to find a fury friend!
Furries & Fury Play
Furries originated in the early nineteen-eighties, and were inspired mostly by certain science-fiction texts. It wasn't until the succeeding decade, when people became aware of the internet, and its online games, that the Furry really took off.
Role Play Gay Sex Games
These interactive role-playing games blew the door into a make-believe world wide open, wherein people could become any kind of animal that they desired and adopted some of the animal's dominant traits, interspersed with human-like communication and physical needs. It didn't take long for Furries to start falling for each other, and their online sexting evolved into webcam sex, and then subsequently into reality, with specialist conventions, and swingers parties, hosted all around the world.
Pleasures of the Fur
This particular form of role-play keeps your identity concealed, allowing you to truly unleash the wild animal in you; and it has certainly shaped the way many gay men participate in role-play. From cotton-tails to ox-tails, you can be as soft and cute as can be - or as strong and hard as an ox; it really does all depend on your personality, and how you would like to be treated - whether by another Furry, or perhaps a human play mate?
Pony Play & Pup Play
Two of the most common types of Furries, and pet play characters are Pony Play, and Pup Play. You can transform your costume into something incredibly kinky, with the inclusion of butt-plugs shaped like tails, and collars and harnesses in varying degrees of thicknesses and strengths. Pups like being rewarded for their hard work; they like to please, roll over and lick. They also tend to be loyal, have a healthy appetite, and are always ready to greet you with a wagging tail, regardless of how you treat them, but always remember to acknowledge their efforts after an extensive training session.
Ponies tend to be strong; they like to preen and have swishy tails. Sometimes you may need to coerce your pony into working harder, so the inclusion of whips and appropriate restraints may be necessary to keep your pony in line.
Gay Escort Furries
The world of pet play and Furries is extensive; some Furries may like to play together, so it is always worth keeping a lookout for organised events - these events can be anything from meet-ups to hook-ups, or even full-on BDSM sessions. A quick internet search should be able to help you to find other local, like-minded people, allowing you to locate a compatible partner. For those who really want rewarding hot gay sex, spending time with a Gay Escort will deliver the best role play and orgasm you have ever had. Visit SleepyBoy.com to find a rent boy to play with.
There is a lot of fun to be had by becoming a Furry - where you can take personal deviance and kink to whole new levels, regardless of whether you are dominant or submissive by nature.
When a Gay Escort is more than sex – Great Gay Dates in London
For many men the bridge between great gay Sex and a full Boyfriend Experience is being filled by spending more time with the same Gay Escort and enjoying a date night before heading back for great sex.
London Gay Escorts are some of the most cultured men in the world and are happy and able to accompany you to many event or fun dates of your choice across the capital. Getting to know each other, building rapport and sexual tension are great reasons to enjoy a date before sex. Other reasons are much simpler including companionship, cultural conversation and enjoying London on your terms.
Here are a few of London's cultural highlights that can be explored as a date with your London Gay Escort.
The BBC Proms
The BBC brings classical music to the masses every summer during their world famous Proms. Two months of brilliant concerts are held in the Royal Albert Hall with musicians and performers from all around the globe, culminating in the Last Night of the Proms which tends to be a lot more raucous than other parts of the festival.
Notting Hill Carnival
Another famous cultural date for London is the Notting Hill Carnival in August which has its roots in 19th century Caribbean celebrations. It's a joyous festival of life with plenty of music, colourful costumes and some pretty tasty street food to boot. The carnival attracts thousands of people from all around the world and is simply the biggest street party in Europe.
Pearly Harvest Festival
If you want something a little more London and a lot more Cockney, then the Pearly Harvest Festival should be right up your street. It's a mix of Morris dancing, drummers and the odd marching band here and there, but most people come to see the pearly kings and queens in all their finery and try a little cockney rhyming slang. If you don't know your apples and pears from your Gregory, you will be the end of the day.
London Cocktail Week
If you want to find out how to mix the perfect daiquiri or cosmopolitan, then London Cocktail Week is one event not to miss. From tastings to tutoring, there are plenty of interesting nights being held across the whole of London during the first week of October.
Africa On The Square
Becoming an annual event in the Capital, Africa on the Square brings together a wide range of activities to celebrate everything about African culture. Expect to see colourful clothes, plenty of live music and dancers and more than enough food stalls to get those taste buds zinging. Held in Trafalgar Square during the middle of October, it's certainly one not to miss.
Victoria and Albert Museum
If you like your history and want to see some of the most famous exhibits in the world, then London has a good selection of museums, including the Victoria and Albert. They're currently running a number of exhibitions including the popular Undressed: A Brief History of Underwear which is on until the beginning of 2017. Like most museums in the Capital there are plenty of free tours and talks from experts during the week making it well worth a visit.
Caravaggio at the National Gallery
The National Gallery has some of the most iconic works of art the world has ever known. They are gearing up to a Caravaggio exhibition in the coming months with tours and talks. There are also courses, workshops and lectures to take advantage of as well as lots more to keep the ardent art lover fully entertained.
Quirky Dining
If you want a more unusual dining experience, there is much to choose from in London. The Attendant is built on the site of an abandoned WC and the ornate urinals have been used to make seating booths. If you have a few pounds to spend, the extravagant art-deco of Bob Bob Ricard in Soho might be just up your street. And if you want to experience eating in total darkness there's Dans Le Noir in Clerkenwell.
A Gay Guide to Barcelona
A heady mix of sun, sand, sea and salsa are the order of the day when you take a trip to Barcelona in Spain. It has a thriving gay community, an eclectic outlook on life and is the perfect city to visit if you want to have a good time and meet some new friends. It also has some of the hottest gay men on the planet including very sexy Spanish Gay Escorts!
Things to do in Barcelona
For those who like to dance the night away there are nightclubs galore, excellent food for those with more gastronomic interests and a host of great architecture, shops and other places to go for those looking for traditional holiday activities.
The most popular gay area lies around L'Eixample which has been renamed Gayxample in recent years. The bar life starts pretty late here, mainly because the norm is to eat around 9:30, but you're guaranteed a good time. The clubs get going around two in the morning and once you've danced into the early hours you can head down to the beach if you have enough energy left. Sitges beach town is a popular destination for the LGBT community and has two small gay friendly spots with bars and restaurants nearby.
Where to Eat and Drink
One problem with Barcelona is that you're spoiled for choice. If you prefer a slower pace, a bar such as Punto will be more your style. Fancy young and trendy? Then Dietrich or Zeltas will do you just fine. All these are within walking distance of Gayxample which can be accessed on the metro; just get off at Universitat station and you're there. You'll find a number of cruising bars here like the popular leather bar New Chaps. To get personal tips on where to party or to spend a fun steamy evening in, book a Barcelona GayEscort.
Shopping and Sight Seeing in Barcelona
Barcelona's main shopping road is Passeig de Gràcia and if you can't find something to excite your wallet there's no helping you. From high class designer fashions, including Stella McCartney and Prada, to more off beat niche stores, the centre of the city is a hive of shopping wonderland. If you're looking to take in the sights at the same time, don't miss out on the world famous Sagrada Familia and the architecturally superb Gothic Quarter. Museums and galleries abound and you may need more than just a few days to explore.
Where to Stay
There are hundreds of places to stay and most of the hotels are LGBT friendly. If you want to be close to the Gayxample area, you could do worse than Acevi Villarroel or the Barceló Raval (which incidentally has some great views out over the city). The main gay hotel in the city is the Axel Hotel Barcelona which also has its own spa and pool. If you want companionship in Barcelona then you can choose to take a Gay Escort with you (see which guys will travel at www.sleepyboy.com) or use the search function (at the same website) for Barcelona Gay Escorts.
Gay Events in Barcelona
There's plenty going on in this thriving city for the LGBT community and most of the bars have a theme night of one sort of another going on throughout the year. There's a gay and lesbian tennis tournament held at the end of August, if you are sports minded. The main pride event in Barcelona takes place around July time and there's a lot to take in. The pride parade heads through the centre of town to the beach and there are numerous stalls, concerts and other treats to catch your attention. You'll need some stamina though because the whole event usually lasts two to three weeks.
If you haven't visited Barcelona yet - it's a must at least once in a life time. You'll get a warm welcome, enjoy very sexy men in a vibrant city and catch some sun at the same time.
Escort of the Week
Escort of the Week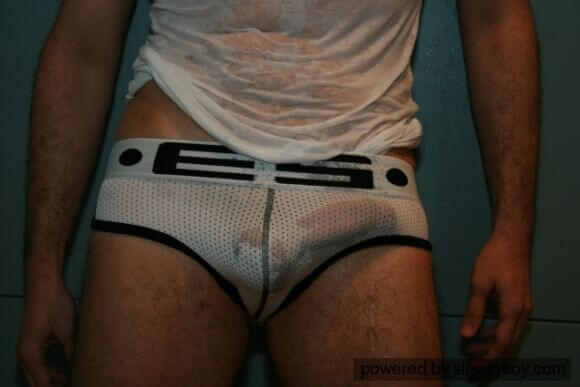 The Male G-spot!
Have you heard the stories about the male g-spot?
And how, with the correct stimulation, it can totally transform your sex life – regardless of whether you're playing solo, with a partner or spending time with your favourite Gay Escort.
Better Gay Sex
The prostate gland is what has become known as "The girl's spot for guys". This small, walnut-sized gland can be found just inside the back passage, once you know it's there, it's relatively easy to find. Insert a well-lubricated finger into your partner's anal canal, and approximately two inches inside, press your fingertip upwards (If they're lying on their back. If you've got your partner on all-fours, then it's downwards). You should be able to feel a small, slightly squishy, smooth area - this is the prostate.
Stimulating the Male G Spot
The prostate grows in size when stimulated; use your finger in a "come-hither" motion, or press and tap gently. If you're not used to this kind of stimulation, it can feel somewhat overwhelming to begin with; your partner may feel like they will have to go to the loo. This is perfectly natural and if you follow the guidelines for regular anal play - and sex - and ensure that the bowels are empty, there really is no need to worry - it's simply the body's natural reaction. After all, there is something inside which isn't naturally there, so your brain thinks it needs to push!
Pleasurable Gay Play
As you stimulate the prostate, it can cause overwhelming pleasurable sensations, these sensations build up to extremely powerful orgasms. Some men feel the sensation of orgasm without actually ejaculating - or they may ejaculate slowly - things don't tend to gush when the prostate is involved. This longer ejaculation causes climax to be intense, which in turn can lead to even greater sex, as it enables guys to potentially climax multiple times within any one sex session.
Hot Gay Escorts
Prostate stimulation is ideal foreplay with your gay escort. There are lots of fun, naughty or sexy devices available that remove the task – and trouble – inherent in locating the male g-spot manually. Although when you spend time discovering sexual pleasure with a Gay Escort they are experts in finding your G Spot. If you choose to add some toys then ones that are made to massage the prostate often resemble long, slender, anal dildos, often with a bulbous head at the end. All you need to do with regards to the use of these items is insert them, and then use a stroking action for maximum stimulation.
Mind Blowing Gay Sex
So there should really be no delay - don't be shy in asking your gay escort to help you explore your g spot. The prostate is one of life's best-kept secrets - and until you've experienced orgasms that powerful, you're not truly awakened to the full sexual intensity that this type of stimulation can cause. It's strong, dynamic and utterly mind-blowing!
Gay Escorts are experts in ensuring you have excellent, mind blowing sex, to find one that suits you search the biggest UK Gay Escort Directory SleepyBoy.com
Remote and Long Distance Sex Toys...
Over the last decade, gay sex toys have advanced, keeping pace with technology, which has opened up a whole new world of pleasure to explore. Just as we have seen technological advancement develop with regards to the items we use every day - such as our mobile 'phones, tablets and computers - so too, sex toys have kept pace, to the point that their use can be incorporated with apps that we use on our phones and other devices!
Fun Gay Sex Toys
These remote-controlled sex toys are brilliant for using for long-distance relationships - or simply if you and your partner are apart, they also work well for you and your favourite gay Escort over Skype or phone calls! These items can be used when one guy is on the other side of the world from the other, and can be used in conjunction with most video call platforms.
Give over the controls!
These toys work due to one person having the toy, and the other having the controls. You submit fully to the other person as they pleasure you from miles away - all very clever stuff. Some of the devices even have programmable buttons, so you can uniquely programme the device specifically to your lover's needs. The toy will then record what they like, and how they respond. Others you can use together; these respond with, and to, your movements, making the world appear a much smaller place. These toys can also be used via web-cam, or even smart-phone. Other kinds of remote-control sex toys can be used with a lover much closer, in your vicinity. These are often compatible using Bluetooth. Lots of fun can be had with these devices; they can be worn, and used anywhere, at any time, making for an incredibly sexy time.
Submitting to pleasure!
There is nothing like submitting yourself fully to a hot Gay Escort, or a partner, by letting them control what you're experiencing - even whilst in public, for example; this can be exciting and exhilarating. Of course, these toys can be used within the bedroom; they're fantastic when incorporated into a session of bondage, or BDSM - they can cause many sensations related to sensory play. These sex toys are reasonably priced, and are normally made from some of the higher-grade sexual device materials; and they're best used with a water-based lubricant, but it's always best to check the manufacturer's instructions.
Sex from Any Distance
So if you're embarking on a long-distance relationship, or you and your lover or gay escort are just after some top-end play, these devices should be certainly tried, as they can totally transform either any web-cam experience, or bedroom foreplay session. They're smart, inventively designed and hit all the right places. Take the We-Vibe, for example. This toy fits in the palm of your hand, and runs from an app on your 'phone. It's so discreet that it doesn't even look like a sex-toy! There's so much to discover with these items; they bring you closer together, in more ways than one.
The only barrier is your imagination, so let your mind run wild, with some of your dirtiest fantasies - and incorporate the use of one of these very sophisticated devices.
You won't look back - they can fully transform your sex life.
Gay Escorts, Bi-Sexual Escorts & Transgender Escorts in London, Manchester, Leeds, Birmingham & The whole of the UK
A major change has taken place in the last five years, where you can see an increasingly obvious decline of the gay escort in London and the gay escort in the UK. The reason for the decline of the male escort on the streets is the increase of the internets popularity. There are many reasons the gay escort in the UK has moved business online. A bi escort in London can feel more secure and can find far more clients online amongst many other reasons.
With the popularity of the gay escort in the UK and the openness of the gay community, there are many homophobic gangs which harass popular spots where one can find a gay escort in the UK. The same is said for the bi escort in London. Though the bi escort in London isnt gay and doesnt focus only on males, they are often harassed by anyone that disproves of their acts. The internet offers a safer place where both a bi escort in London as well as a gay escort in London can do business without the worry of being harassed or tormented based on their sexual preference.
Also, the bi escort in London can find a lot more business by posting an ad online rather than standing on the street where they once were. The bi escort in London also has a place in many of these online websites. The online world offers many customers that may have been uncomfortable or unable to approach a gay escort in London to do it in a more discreet and secure way. Instead of asking inappropriate questions, especially for first timers, a client can look at what the bi escort in London offers and then contact them for service. When approaching a gay escort in the UK usually happens in a quick manner and the client cannot fully look at them or communicate with them, and the internet provides the client with as much information and images as the client may feel they need.
A male escort can work online in several ways. The most popular is finding a gay escort in London website which offers ads which can be posted. The male escort then creates an ad with pictures, personal information, measurements, services they offer, and prices. This makes the shopping and searching much easier. Once the connection has been made and the male escort and client are in contact they can determine the place and time to meet. From there they male escort gets their payment and its 100% for them. A gay escort in the UK can find ads online anywhere from the very inexpensive to extremely pricey, depending on the traffic in the website.
The other way that a male escort can find work online is through an agent. Very rarely does a gay escort in London actually have a "pimp" as they tend to work alone or with an agency. The agency is a great way for a gay escort in the UK to find business and to keep it consistent. The way it works with an agency is that the client looks through the different pictures and chooses a male escort. Then based on the location, services, image, and personal preferences they choose a gay escort in London. Once they find what they need, they contact the agency and set a time of meeting and location. When the male escort finishes their work and takes the money, they give a percent to the agency and keep the difference and any tips. The percent is determined based on the popularity of the agency.
Thought you can still find a gay escort in London on the streets, there are far less today than there were 5 years ago. The internet has taken over and is controlling the male escort market. Whether through an agent or working on their own, the male escort can do business in a safer and more secure manner online.