The Best Gay Escorts are listed here on Sleepyboy. Search below for Gay Escorts, Bi-Sexual and Transgender Escorts. Search for your favourite Rent Boy or Gay Masseur across the UK. We have Gay Escorts in London, Manchester and all Cities across the UK. Whether you are looking for a date, a Gay Massage or a Sauna Companion search below to find your favourite Rent Boy. This is the best Gay & Bi-Sexual Escort Directory in the UK.
Escorts of the Day
Welcome to Sleepyboy.com
THE UK`S LARGEST INDEPENDENT ESCORT DIRECTORY
NOW SEE ALL ESCORTS PHONE NUMBERS AND PHOTOS FREE
When using an escort site, how many of the escorts are real? how many are still working? and how many sites allow non active escorts to stay on the site even if they stopped working? some sites have over 1000 escorts, but how many can you contact....test it out! try other top sites and you will see ANYONE can say we have 1000 escorts, thats easy, but how many can you contact?
---
If an Escort does not login within 30 days, you will not see the profile
"you know that you can get in touch as we check you can"
Browsing the site is totally FREE or you can view ALL photos and ALL escorts details by joining as a viewer.
For BETTER exposure escorts can upgrade their profiles by signing up and choosing one of the many packages we have on offer Basic, VIP, Silver, Gold & Platinum.
---
GAYSCENE
Men With Beards: Hot Or Not?
Over the last few years, we have seen a noticeable increase in the number of guys growing beards - it has become a bit of a style staple for those who are fashion conscious! It comes as no surprise that the bearded 'manly man' is coming back into fashion after so many years of being on the back burner.
Gay Escorts & Beards
The beard is certainly not a new thing or phenomenon - nor can every guy carry one off, but for those that can the question is – is he Hot or Not? The Gay Escorts on Sleepyboy.com are many and varied in their appearance and approach but as most of them are very fashion forward and great looking would the clean shaven opt for a beard? Those that love a Gay Bear rather than a Twink would probably say Hot, while those who favour the smoothness of youth would say not – but let's take a closer look at the Beard Factor!
It's something of a misconception that if you grow a beard, then it will automatically increase your cool ratio - to put it bluntly not all men suit them! For those men that have them some don't keep them adequately groomed, so they end up looking like a caveman, rather than the guy on that advert which you saw on the tube this morning!
Facial Hair is so Manly!
Facial hair certainly adds a touch of manliness; it exudes the image of someone in possession of a strong and rugged persona - and a guy who can grow a good beard probably has some decent chest hair which you can run your fingers through too.
Of course, if you prefer your guy to have a youthful appearance and smooth skin, then beards are not for you - though you should never say "Never"; everyone should try something at least once! (A sentiment which has probably gotten a lot of you into some interesting scenarios!)
So whether or not you prefer your beards to be more "lumberjack" than "Tony Stark", there is a lot to be said about the benefits of having a guy with a beard - the age-old saying of "hairy lips, makes for happy nips" doesn't come from nowhere, after all!
The Sensory Benefits of Beards
Beards can add a whole new sensory factor to the equation; they can tickle and tease, and even scratch... if you like it rough, then try some stubble, rubbed against soft and delicate skin, to arouse and titillate. Running your fingers through it, and even grabbing it forcefully, can all be rather playful.
Some, of course, may consider the points which I've made to reflect a positive light, to have a negative aspect, and images of hairs stuck between your teeth, and stubble rash may spring to mind - plus a beard does tend to make guys look a lot older than they actually are. Guys with smooth faces tend to smell great too - that's not saying that hairy guys don't, just that things like toiletries, and aftershave, seem to stick around longer when they get the chance to touch the skin!
There are a lot of points to take into consideration when it comes to beards and facial hair; what suits one person, doesn't always suit another; plus one guy's hair can be smoother, courser, finer and thicker than the next, but in the end, the answer to the question of whether guys with facial hair are hot or not would have to be "hot!" They're manly, can add stimulation, and can be trimmed and grown again to encompass many styles and variations. So what's not to love?
The Best Places to Meet Your Gay Escort
When it comes time to book your hot Gay Escort, one of the main things you will need to decide is to where to meet them. Depending on where you are, and whether you are on holiday or not there will be different accommodation options available to you.
Here is a quick look at some great places for you and your Escort to spend time together
Initial Meeting
Some people like to meet their Gay Escort at the place they will be staying for their time together and while this is absolutely fine, some may want to meet up in a bar, or go for dinner, to get to know each other a little better and enjoy a real date experience before moving on.
In Calls
The phrase 'In Call' is used within the Gay Escort world and its worth exploring what it means. Gay Escorts that offer in-call services, mean that you can book to arrange to meet them at their place. This is normally their home, this is a great option if you want discretion, if your home is not appropriate or if you are looking for something a little more homely than a hotel room. The other benefit of meeting your Gay Escort at their place is that they will be extremely comfortable there and will be happy to accommodate you and show you a great time.
Out Calls – Your Place
You may favour your escort visiting you at home, this makes things very easy and convenient for you as you can just wait for them to arrive. It is also a little more natural, especially if you're after a little more intimacy on an emotional level. You can have any or all of your favourite toys and other fun items at hand ready for your rent boy to arrive.
Out Calls – Hotels
If you are working away in an unknown city hiring a Gay Escort for the evening to visit you at your hotel not only gives you a great sex experience but god company too! Sleepyboy.com has fantastic Gay Escorts across the UK and Internationally so you will never be far away from a great night!
Hotels are great places to meet your Gay Escort, as not only does it give you a break from your 'normal day to day' you can also treat the night as something special, really go town and enjoy the downtime that you'll experience from your booking. Hotels are very discreet, after all, nobody need know your location, or how long you plan to stay away. Hotels often offer large beds, and elegant bathrooms, allowing you to unwind in style, without any worry of feeling the need to rush. Your escort will know of the hotel, and be aware of its polices, and will act in a professional manner at all times, to ensure that your personal details, and needs, remain confidential and that nobody, apart from yourself, would be aware of their reason for visiting the hotel.
Club Night Meetings
If you require an escort who specialises in certain fetishes, it may be worth considering meeting up and heading over to one of the many fetish clubs that are around. The benefits to this are manifold, as you can gain access to fully functioning dungeons, with sex machines and sex furniture, alongside various BDSM activities that both you and your escort can partake in if you so choose. These clubs are an excellent way to meet other like-minded folk, as well as play with others, or alternatively, you may merely wish to sit back and watch, to get you in the mood, for what may unfold a little later in the evening.
Gay Sauna Companions
Gay spas and saunas offer a relaxing setting and an open-minded viewpoint with regards to consensual naughtiness. If you like relaxing bubbles or warmth, then saunas with pools and Jacuzzis are a great way to get down and dirty with your escort. These spas offer light refreshment, alongside some of the best gay porn films being played in the background, which will never fail to get you and your gay male escort in the mood!
So take your time to consider the options available to you, before you meet your Gay Escort, and be sure to be open and honest about just what kind of experience you want, as meeting in the right locations for your needs can really increase the excitement of your encounter, which will make it a night to remember.
A Gay Guide to Derby
While it doesn't have the strong LGBT proud and loud presence or even a gay village, Derby is still a great city to visit and you'll get a warm welcome from the locals when you get there. The local LGBT community have struggled in recent years in running a pride festival particularly with cuts to local government funding which means that there will be no celebration in 2016. Despite that, there's plenty to do and see in this traditional English city.
Bars and Clubs in Derby
The main gay bar in Derby is The Crown which is on Curzon Street and is a lively place to be. In fact, The Crown is the pub to be and most other locations in the city centre are either mixed clientele or exclusively straight. Also on the same street is Curzons, the only gay nightclub in the area. If you don't want an overtly gay environment, then there are some lovely old pubs in the area including the Brunswick Inn on Railway Terrace and Ye Olde Dolphin Inn on Queen Street.
Restaurants in Derby
There is a good selection of eating places in the city centre and menus to suit even the most discerning pallet. None of these are specifically aimed at a gay clientele as you might expect for a place that doesn't have a village area. Top class cuisine is provided by Jack Rabbits and Moon Sha to name just a few and all are within comfortable walking distance from the city centre.
Gay Escorts in Derby
Derby is a great place to be, whether this is your home or you are just visiting for work or a fun weekend you will be able to find a lovely Gay Escort to keep you company. Whether you are looking for a Gay Massage, Gay Sauna Companion or a fun uncomplicated evening the Derby Gay Escorts on Sleepyboy.com are waiting for your call.
Hotels in Derby
There are some big chains in Derby including Holiday Inn and Best Western which are very affordable and there are smaller outfits such as the Thornhill Lodge Guest House on Thornhill Road which is a 19th Century building with plenty of charm and also very welcoming to anyone from the LGBT community. If you want to bed down further out from the city centre, then there is Castleton in the Peak District that is home to the Swiss House Hotel and Cheshire House Bed and Breakfast which are both gay friendly.
Shopping in Derby
As with most city centres, there's plenty to do in the centre of Derby if you like a good shop. The hub of a vibrant café culture is the Cathedral Quarter which has plenty of places to eat and some great boutiques and independent shops to explore. If you fancy a scare, then there is also the odd ghost walk where you can discover the gory past of this unique area of Derby.
Site Seeing In and Around Derby
Close to the Peak District and with plenty of sites of historical interest and natural beauty, there's lots to do around Derby. In town there is a yearly film festival and a number of museums to visit including the Derby Museum and Art Gallery on The Strand. If you want to keep fit, then the city also runs a yearly cycling festival which encourages the local community to take to two wheels and where the professionals tackle a 80 km route around Derbyshire. Other attractions near Derby include Alton Towers and Bolsover Castle.
If Derby doesn't have the strong LGBT connection that many will be looking for, it's a great city to visit with plenty to see and do. A region steeped in history and with enough bars and restaurants to keep you average party animal happy, there are some memorable moments awaiting visitors to this quintessentially English city.
Porn vs. Escorts: A look at the benefits of both and why Gay Escorts are better
When it comes to your innermost desires, two of the best ways to live out these fantasies are by watching porn, or hiring the services of a gay escort. Both of these methods have advantages to them, and both boast beneficial effects which can better our lives, but which one of these options comes out on top?
Porn is a wonderful creation, it has been around since the dawn of time, when man would paint on walls of caves - not only would it educate, it was there to titillate too. Now, thousands of years on, with the wonders of technology at our fingertips, porn and the adult industry has really taken hold, as pretty much any fetish is catered for, and no fantasy is left untouched.
With this range of styles and easy accessibility you will be sure to find something which raises your temperature and gets your blood pumping. Porn can come in many formats, from films, to pictures, to cartoons to stories, all of which are highly erotic and enticing - and affordable, but there are many downsides when it comes to satisfying our adult needs in this manner.
The majority of websites will ensure that you have to join, and while you may get the first month free, thereafter you will need to supply them with your bank details, allowing them to deduct a membership fee each month. The integrity of some of the sites can leave a little to be desired, and giving out highly personal information exposes your identity and important details open to third parties.
The online sites which offer free services can be a very dodgy with regards to viruses - and what is commonly known as "ransomware". This is something which automatically downloads once you've clicked to play the video or visit the link to your desired feature. Instead of what should have been a relaxing experience, you are now faced with your system software locking down around you - until you pay the company a sum of money via the link provided – ergo, you're held to ransom, hence the name of this malicious piece of software. So while it can be agreed that porn is a great invention which has served the needs of humanity since the dawn of time, it really can cause problems and isn't as straightforward or cost-effective as it first appears to be.
If you so choose to live out your fantasies and needs by hiring the services of a local gay escort, then things are certainly simpler. Firstly, you know what you are getting, and there aren't any nasty surprises. Your personal information is secure, as escorts pride themselves on discretion at all times. You know that you are paying for a quality service, and you should be aware of what services a high-class escort offers. If you are unclear on this, then at the time of booking, all these things can be addressed; being straight up is the best policy, as this will ensure you an even better experience than you would probably anticipate.
Hiring the services of gay escorts goes a lot further than letting a scene unfold in your head, of course, as you are experiencing them physically, one to one - or more if you so desire. Nothing beats the touch of another human being; it's something we all naturally crave, so to put it as basically as possible, the attention of a gay escort wins every time over porn - or anything else for that matter.
Escort of the Week ...
21 years old Thiago, amazing looks, ultra smooth skin, and a very nice 21cm juicy cock, which is always ready for fun, even if it´s just a kiss and a cuddle you want, Thiago is your man, click on his photo below for a direct link to his profile, and more great photos .........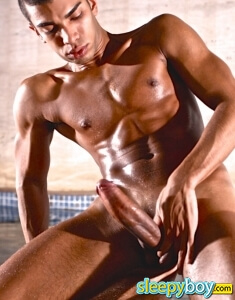 Is it weird to watch porn with your gay escort?
The short answer is no - of course not! If watching porn really get you off, then watching it with your escort is a great idea!
Hot gay escorts can provide many services, and some even specialise in certain areas, allowing you to indulge in sexy pleasures performed by highly skilled professionals. SleepyBoy.com has the biggest and best list of escorts in the UK so you will be assured to find your perfect match in gay escort form. Once you have, then booking them becomes a necessity, so you can finally treat yourself to the sexual experience you have been looking forward to, either as a one off or as a regular!
How you choose to unwind in the company of your escort is a confidential matter shared between you both, but a very popular way to unwind and break the ice is to watch porn together. Not only does viewing a raunchy movie set both of your pulses racing, it is a good aid to communication, and inspiration - you may see something you would like to try out with your gay escort.
There is certainly nothing weird about watching adult material together, the adult sex industry is huge, and it can open many doors regarding creating a fulfilling and satisfying sex life. It can lead to experimentation, and consideration of acts or fetishes you may not have contemplated before.
There is nothing hotter than dirty talk - so if you find something a particular turn-on within the movie then let your gay escort know, as this can lead to your own raunchy scenario unfolding. You may just be lucky enough to hire the services of a porn star gay escort - escorts that have worked, or still do work, within the industry themselves. These gay escorts can not only supply you with the service you'd expect from a porn star, but they may even let you discover some of the trade secrets for yourself...
Watching porn together lets you break the ice with your escort and it is also an easy way to let your escort know what you would like. Having your favourite sex scene on, and telling your gay escort 'like that' when your favourite part comes on is sometimes easier than explaining in words what you want. Let him then reproduce what you have asked for while you just enjoy the experience.
If you let your gay escort know at the time of booking that you'd like to chill out together and unwind over a little bit of porn, then you may even be able to get some tips and suggestions concerning just what to watch. Your gay escort can suggest some of the best gay porn films or streaming sites for you to watch together.
If you book the same escort on a regular basis then watching porn together can help you can discover what want and what you may want to experience in the future. This can allow you to fantasise and allowing you to look forward to enacting sex you have watched together the next time you meet!
Gay Escorts, Bi-Sexual Escorts & Transgender Escorts in London, Manchester, Leeds, Birmingham & The whole of the UK
A major change has taken place in the last five years, where you can see an increasingly obvious decline of the gay escort in London and the gay escort in the UK. The reason for the decline of the male escort on the streets is the increase of the internets popularity. There are many reasons the gay escort in the UK has moved business online. A bi escort in London can feel more secure and can find far more clients online amongst many other reasons.
With the popularity of the gay escort in the UK and the openness of the gay community, there are many homophobic gangs which harass popular spots where one can find a gay escort in the UK. The same is said for the bi escort in London. Though the bi escort in London isnt gay and doesnt focus only on males, they are often harassed by anyone that disproves of their acts. The internet offers a safer place where both a bi escort in London as well as a gay escort in London can do business without the worry of being harassed or tormented based on their sexual preference.
Also, the bi escort in London can find a lot more business by posting an ad online rather than standing on the street where they once were. The bi escort in London also has a place in many of these online websites. The online world offers many customers that may have been uncomfortable or unable to approach a gay escort in London to do it in a more discreet and secure way. Instead of asking inappropriate questions, especially for first timers, a client can look at what the bi escort in London offers and then contact them for service. When approaching a gay escort in the UK usually happens in a quick manner and the client cannot fully look at them or communicate with them, and the internet provides the client with as much information and images as the client may feel they need.
A male escort can work online in several ways. The most popular is finding a gay escort in London website which offers ads which can be posted. The male escort then creates an ad with pictures, personal information, measurements, services they offer, and prices. This makes the shopping and searching much easier. Once the connection has been made and the male escort and client are in contact they can determine the place and time to meet. From there they male escort gets their payment and its 100% for them. A gay escort in the UK can find ads online anywhere from the very inexpensive to extremely pricey, depending on the traffic in the website.
The other way that a male escort can find work online is through an agent. Very rarely does a gay escort in London actually have a "pimp" as they tend to work alone or with an agency. The agency is a great way for a gay escort in the UK to find business and to keep it consistent. The way it works with an agency is that the client looks through the different pictures and chooses a male escort. Then based on the location, services, image, and personal preferences they choose a gay escort in London. Once they find what they need, they contact the agency and set a time of meeting and location. When the male escort finishes their work and takes the money, they give a percent to the agency and keep the difference and any tips. The percent is determined based on the popularity of the agency.
Thought you can still find a gay escort in London on the streets, there are far less today than there were 5 years ago. The internet has taken over and is controlling the male escort market. Whether through an agent or working on their own, the male escort can do business in a safer and more secure manner online.