The Best Gay Escorts are listed here on Sleepyboy. Search below for Gay Escorts, Bi-Sexual and Transgender Escorts. Search for your favourite Rent Boy or Gay Masseur across the UK. We have Gay Escorts in London, Manchester and all Cities across the UK. Whether you are looking for a date, a Gay Massage or a Sauna Companion search below to find your favourite Rent Boy. This is the best Gay & Bi-Sexual Escort Directory in the UK.
Escorts of the Day
Welcome to Sleepyboy.com
THE UK`S LARGEST INDEPENDENT ESCORT DIRECTORY
NOW SEE ALL ESCORTS PHONE NUMBERS AND PHOTOS FREE
When using an escort site, how many of the escorts are real? how many are still working? and how many sites allow non active escorts to stay on the site even if they stopped working? some sites have over 1000 escorts, but how many can you contact....test it out! try other top sites and you will see ANYONE can say we have 1000 escorts, thats easy, but how many can you contact?
---
If an Escort does not login within 30 days, you will not see the profile
"you know that you can get in touch as we check you can"
Browsing the site is totally FREE or you can view ALL photos and ALL escorts details by joining as a viewer.
For BETTER exposure escorts can upgrade their profiles by signing up and choosing one of the many packages we have on offer Basic, VIP, Silver, Gold & Platinum.
---
Most Missed Gay Experiences – Gay Massage
Sexuality and sensuality are things we have really missed over the last few months and while self-gratification and perhaps some virtual or phone sex is great and can bridge the gap the sense of touch and physical contact is something that many men have missed over the last few months.
Gay Massage is Amazing
Gay Massage has all the benefits of great gay sex while also bringing a real sense of complete touch and sensuality while it is happening. Getting a gay massage is more about sensuality that gratification and that is why Gay Massage has been one of the most missed sexual experiences in the last few months and one of the most requested when regulations in your area allow.
Sensuality and sexuality combine when you have a great gay massage and it can encompass all the senses not simply a release. Here are the best ways massage tantalises our senses and why it has been so badly missed over the last few months.
Gay Massage and Touch – Probably the most obvious sense to be aroused when you think of a gay massage. A smart, sensual man running his hands all over your body making you moan is just the right amount of sensuous touch to invigorate the senses. Kneading and rhythmic rubbing all add to the touch sensation, from top to toe and back again, a sense of togetherness and male to male contact is simply sublime.
Gay Massage and Taste – Nice champagne and strawberries to start can really enhance any gay massage experience. This will help you relax and make the experience a real indulgence and can give you a happy place at intervals during the gay massage.
Gay Massage and Smell – Lighting relaxing, gorgeous smelling candles, using scented massage oils or just the smell of a well-groomed man massaging you is enough to make you happy and horny. Whatever you choose, ensure it is something you both like and so can both enjoy during the gay massage.
Gay Massage and Sight – If you choose one of the amazing gay escorts listed on sleepyboy.com then you will indeed have someone really special and gorgeous to look at. Pick a gay escort to deliver your gay massage that makes you hot, and you will enjoy looking at them throughout the whole gay massage experience.
Gay Massage and Sound – Relaxing, sensual music in the background of a great gay massage is a fantastic way of engaging your sense of sound when having a great gay massage. Some men like the music loud, and some like it soft so they can hear their sexy masseuse breathe and work on their bodies, and so they can moan nice and loud to indicate pleasure.
The Best Gay Massage
The only way to have the gay massage you want and so the best gay massage of your life is to engage all of the senses in some way above, this combined with great communication with a sexy gay massage will ensure they touch you just they way you like it and bring you to climax just as you need it, and not when you want it.
Choosing a Gay Escort can be Tricky
We know you have looked at the amazing gay escorts on www.sleepyboy.com , they are the hottest men around, and when it comes to choosing who you think you should connect with we know it can be tricky deciding who to choose. Whether it's your first time or your fiftieth, it's an exciting prospect, and there are some hints and tips to get you started and make sure that this experience is perfect for you.
Choosing a Gay Escort Who is Right for You
Firstly, it sounds boring, but decide on your budget and stick to it. It's easy to get swept up in the idea or the moment and end up spending double what you'd imagined. Don't end the date on a bad note (no pun intended!), just be realistic with your finances. Fortunately finding a Gay Escort is the easy part, choosing which one is for you is often a little harder! SleepyBoy.com is the largest gay escort directory anywhere and it has hundreds of sexy gay escorts all across the UK and abroad, so you will be able to find one near you, and also one who likes what you like, so you can either just find one for a quick night of passion or one to really fulfil any gay sex fetish fantasy you may have.
Gay Escorts & Fetish Requirements
Find out what sexual acts the escort is prepared to do. If you're thinking in a mainstream way then you're probably guaranteed to be indulged, but if you're after something more niche then you really need to check beforehand to avoid disappointment for you and annoyance for your escort. Don't make the mistake of thinking "oh it'll be all right when we're in bed", because if it's a bit 'out there' and you haven't organised it, then it won't be. It is important to be as upfront as possible about your expectations. Have a good think beforehand of the type of gay escort that you are most interested in. Perhaps you have a specific look or build that you are after? In which case it pays to have a good browse around, so you end up with the best match possible.
Location of Gay Escort
There is a function on the sleepyboy.com website that lets you see Gay Escorts that are in your vicinity and who is currently online so you will be able to find one near you very quickly. This also works well if you are in a new city (or country) as you can see who is near you and not worry about how far away, they are to your hotel etc.
The best way to find an Escort is to go with your gut (or perhaps a little lower), when you look at his picture and read his profile does he make you hard, do you want to meet him – if the answer is yes then look a little more and what he says he will and won't do, there is no point spending time with a gay escort who does not like satisfying your particular fetish – there are lots of hot guys on the sleepyboy.com directory just keep looking until you find a perfect match!
How to Make a Sexy Video to Share with Your Gay Escort
With more and more men discovering the delights of online sex with gay escorts, there has been an increase in sexy video production, especially for those guys who have a regular escort and they want to share their kinky ideas with!
Whether you are sending sexy videos to a ay escort or they are making ones for you to enjoy at your leisure there are some things that you should always think about when making these types of videos.
Personalised Porn or Sexy Videos!
Personalised porn. Or in other words – make your own sexy video. And here are some tips to ensure that your film is as hot as it gets.
OK, so how do we start?
Have a plan. You don't necessarily need to be closely following a script, but forward planning and 'blocking' shots will help stop any awkward fumbling. Preparation is key.
Similarly, if you have a rough game plan then you each know what's coming next and if you decide in advance what you want to see in your film, then you stand a much greater chance of making it happen.
Take care of the lighting. You want to see all in your sex tape – you don't want to see it all. Be aware of shadows and stay away from harsh lights. Candles can create a nice ambience in a room and give a soft, natural light, but then you'll have to be hyper-aware of the fire risk. Swings and roundabouts...
Be natural. If you don't look comfortable then you won't look natural, and if you're trying to make this worth keeping then thinking ahead about how to suit your very own porn stars is a great move. If you think that you simply can't relax in front of the camera, then consider a role play. Becoming a character is often easier than playing yourself.
Beware the camera angle. If it's too wide, then you'll be compromising on intimacy. If it's too high, then you'll only be getting whoever is top – and that's not fair. Try a lower angle to catch the best moments - and the best shots of your best parts.
Give yourself a once-over. Would you prefer to be hirsute or hairless for your starring role? Get yourself looking great; shaved, moisturised, pampered – whatever it takes – and that will fuel your confidence and help make you a great film!
Create a Story – You need to have some sort of story to your film; it does not need a complete script but it does need a bit of direction and a reason for being.
Last Video Tip
Be careful – Be careful what you share and how you share, it while you may want to make the most outrageous video, imagine what would happen if you shared it to a social media feed by accident (believe us it has happened) so while you may want to go wild, remember to be a little restrained in what you do and say when it is recorded. Leave the really kinky stuff for when you have phone chats with your gay escort or when you see them again in person!
Escort of the Week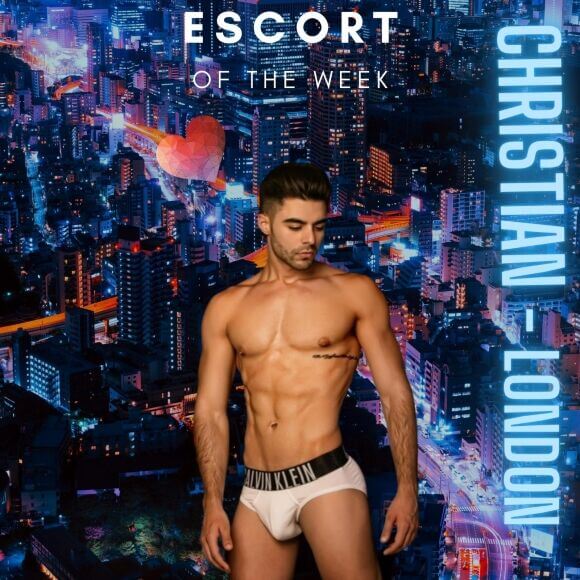 Gay Escorts, Bi-Sexual Escorts & Transgender Escorts in London, Manchester, Leeds, Birmingham & The whole of the UK
A major change has taken place in the last five years, where you can see an increasingly obvious decline of the gay escort in London and the gay escort in the UK. The reason for the decline of the male escort on the streets is the increase of the internets popularity. There are many reasons the gay escort in the UK has moved business online. A bi escort in London can feel more secure and can find far more clients online amongst many other reasons.
With the popularity of the gay escort in the UK and the openness of the gay community, there are many homophobic gangs which harass popular spots where one can find a gay escort in the UK. The same is said for the bi escort in London. Though the bi escort in London isnt gay and doesnt focus only on males, they are often harassed by anyone that disproves of their acts. The internet offers a safer place where both a bi escort in London as well as a gay escort in London can do business without the worry of being harassed or tormented based on their sexual preference.
Also, the bi escort in London can find a lot more business by posting an ad online rather than standing on the street where they once were. The bi escort in London also has a place in many of these online websites. The online world offers many customers that may have been uncomfortable or unable to approach a gay escort in London to do it in a more discreet and secure way. Instead of asking inappropriate questions, especially for first timers, a client can look at what the bi escort in London offers and then contact them for service. When approaching a gay escort in the UK usually happens in a quick manner and the client cannot fully look at them or communicate with them, and the internet provides the client with as much information and images as the client may feel they need.
A male escort can work online in several ways. The most popular is finding a gay escort in London website which offers ads which can be posted. The male escort then creates an ad with pictures, personal information, measurements, services they offer, and prices. This makes the shopping and searching much easier. Once the connection has been made and the male escort and client are in contact they can determine the place and time to meet. From there they male escort gets their payment and its 100% for them. A gay escort in the UK can find ads online anywhere from the very inexpensive to extremely pricey, depending on the traffic in the website.
The other way that a male escort can find work online is through an agent. Very rarely does a gay escort in London actually have a "pimp" as they tend to work alone or with an agency. The agency is a great way for a gay escort in the UK to find business and to keep it consistent. The way it works with an agency is that the client looks through the different pictures and chooses a male escort. Then based on the location, services, image, and personal preferences they choose a gay escort in London. Once they find what they need, they contact the agency and set a time of meeting and location. When the male escort finishes their work and takes the money, they give a percent to the agency and keep the difference and any tips. The percent is determined based on the popularity of the agency.
Thought you can still find a gay escort in London on the streets, there are far less today than there were 5 years ago. The internet has taken over and is controlling the male escort market. Whether through an agent or working on their own, the male escort can do business in a safer and more secure manner online.