The Best Gay Escorts are listed here on Sleepyboy. Search below for Gay Escorts, Bi-Sexual and Transgender Escorts. Search for your favourite Rent Boy or Gay Masseur across the UK. We have Gay Escorts in London, Manchester and all Cities across the UK. Whether you are looking for a date, a Gay Massage or a Sauna Companion search below to find your favourite Rent Boy. This is the best Gay & Bi-Sexual Escort Directory in the UK.
Escorts of the Day
Welcome to Sleepyboy.com
THE UK`S LARGEST INDEPENDENT ESCORT DIRECTORY
NOW SEE ALL ESCORTS PHONE NUMBERS AND PHOTOS FREE
When using an escort site, how many of the escorts are real? how many are still working? and how many sites allow non active escorts to stay on the site even if they stopped working? some sites have over 1000 escorts, but how many can you contact....test it out! try other top sites and you will see ANYONE can say we have 1000 escorts, thats easy, but how many can you contact?
---
If an Escort does not login within 30 days, you will not see the profile
"you know that you can get in touch as we check you can"
Browsing the site is totally FREE or you can view ALL photos and ALL escorts details by joining as a viewer.
For BETTER exposure escorts can upgrade their profiles by signing up and choosing one of the many packages we have on offer Basic, VIP, Silver, Gold & Platinum.
---
How a Gay Escort can Deliver Your Tickling Fetish
Like most niche fetishes the tickling fetish will be ultimate arousal to some while completely baffling to others. The others out there who don't have a tickling fetish can't imagine the wonderful joy of being tickled to orgasm, but Gay Escorts do understand.
What is a Tickle Fetish?
It is pretty simple, you love being tickled and it turns you on. You want to be tickled and then have an orgasm from the pleasure it gives you. Simple! However, finding someone to tickle with might be harder than you think. If you have a tickle fetish you will probably be either a tickler or a ticklee a 'lee' or a 'ler'. The ticklee's are the ones who are being tickled while the 'ler's' are the ones doing the tickling – clear?
Its fancy name is knismolagnia, and it applies to both those who like being tickled (lee's) and those who do or watch the tickling (ler's). You can tickle with your hands and fingers but also with other things that tickle the body including feathers, soft spiked hair brushes and toothbrushes. It can also go on to include pretty much anything that makes a connection with the skin and makes that tickle feeling run all over the body.
Different people are ticklish in different places in the body, for some its all over, for others its pretty specific areas that both tickle them and get them aroused. Obvious places are the feet, back of knees, thighs, underarm, neck and collarbones. But anywhere can be ticklish and it simply depends on the person. Laughing is a great part of the tickle fetish and it can be contiguous between both lee and ler!
Does a Tickle fetish Include Sex?
Yes, some people just love to be tickled and that does not have to be sexual, but if you are sexually aroused when tickled then it is a sexual fetish and you love it and will orgasm from it. It is a great thing to find something unique that makes you aroused and that can be accomplished with little or no special equipment. Often men like to be tied up while they are tickled so they can't escape, they like the feeling of someone else being in control while being tickled.
The harder thing about a tickling fetish is finding someone who will engage in it with you, as with any fetish it can be difficult to ask for, and if the other person is not willing it can be quite deflating. So the answer to this is to spend time with a gay escort as they will be able to provide the tickling so you have the most magical tickle fetish experience ever.
Gay Escort & Tickle Fetishes
If you want to be tickled into orgasm then a gay escort is the go to guy to make this happen. You can find the best gay escorts near you on the UK's biggest and best independent gay escort directory sleepyboy.com. Find an escort who you like and then send a message letting him know what you want and if he can do this for you. Don't be afraid to message one or two to find ones that are happy to tickle you and have the availability you need.
Escort of the Week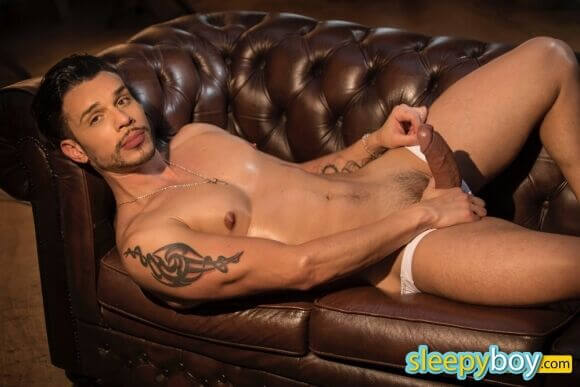 Why have an Exclusive Arrangement with a Gay Escort
Exclusivity is special. It makes you feel special and knowing someone is there for, you and just for you is something you certainly deserve. For many men, the pressures of work or family mean that they either can't devote the time to finding a romantic partner or being openly gay is (sadly still) not an option. This is where an arrangement with a Gay Escort can be really amazing.
Gay Escorts Are There for You
Gay Escorts are handsome, charming, sexy and more importantly are there to be what you need them to be. Often great gay sex is just not enough and having a more intimate relationship is important. It Is fulfilling not only sexually but also emotionally and if a man wants something more than gay sex but does not want to have the complications of a romantic relationship then an exclusive arrangement with a Gay Escort is the best idea.
Constant dating, or simply a string of one-night stands or occasional gay escorts is fine, if that makes you happy, but for many men they miss the sensual and connectivity side of companionship and it is draining simply fulfilling their sexual needs each time. Gay Escorts offer a solution to these, often dull and meaningless interactions by offering companionship, devotion, great sex and making you feel special and amazing.
Meeting Your Needs
Having a sensual man be there for you is extremely satisfying and can help both your emotional, physical and mental health. Having someone who puts no pressure on you, who will fit in with your schedule and demands nothing but who is always there sounds like a dream to many men who have busy lives. An exclusive arrangement with a Gay Escort means he will be there for you, and you alone able to match his schedule to yours, travel with you, join you for dinner, movies or simply a glass of wine and a chat after a tough day, he will brighten your day like nothing else can!
Whether it's a Netflix and chill evening or you want to indulge in your favourite gay sex fetish, your gay escort will be there and ensure you are having the best experience possible. Your exclusive arrangement with your favourite gay escort means that you have pre-agreed the way you will interact and how much time you will spend together.
Benefit of an Exclusive Arrangement
Sometimes, meeting with a gay escort can seem quite transactional, but with an exclusive arrangement this will not happen. It won't feel forced or constrained because you will know, you will see him again soon, there is no rush and you can pick up again where you left off quickly and easily. You can tell the gay escort as much or as little about your life as you want, but the benefit of having an exclusive arrangement is that he will get to know you, he will get to know your likes and dislikes and with this knowledge he can make your time together even more special.
Great gay sex is important but sometimes you may just want a cuddle and someone to talk to and by having someone who knows you, you will feel comfortable simply asking for this. Equally the more you get to know your gay escort the more you will feel comfortable asking for your deepest sexual desires and knowing he will be able to make these dreams come true!
Exclusive arrangements with Gay Escorts are the best of both worlds, you have a devoted companion who will ensure you are happy and content without the added pressure of a relationship to navigate. To find a sensual, sexy gay escort to make an arrangement with take a look at the escorts listed on www.sleepyboy.com and send your favourite a message.
Escort of the Week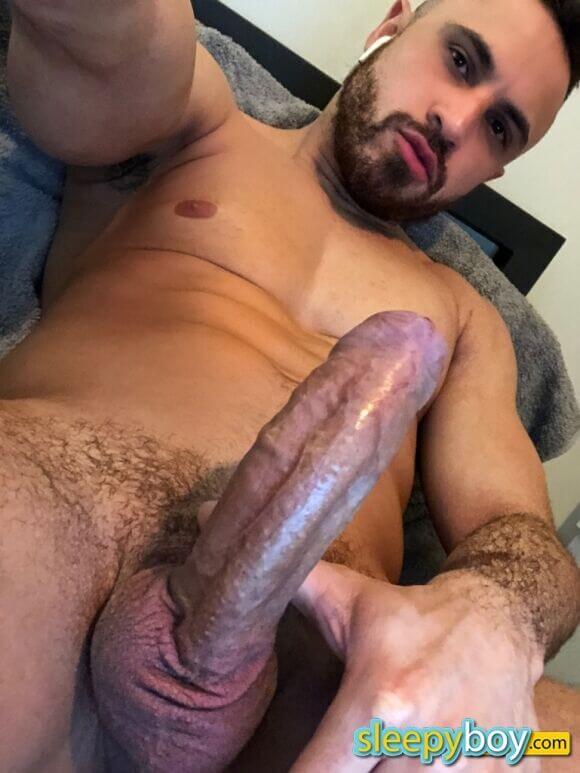 Escort of the Week
How Gay Escorts Can Help if Your Partners Sex Drive is Lower Than Yours
Gay Sex can be complicated. Relationships can be complicated. When you put these two things together then the complications can intensify and cause problems if you are not willing to address issues in each area of your life. If you have a good relationship but the gay sex is not fulfilling, then inevitably the relationship is in trouble and you have to do something about it to save it.
Gay Sex Drives Differ
One of the main issues in many relationships is a mis match in sex drive, and a gay escort can really help in these situations. Sex Drives are different for everyone and if you are in a relationship and your sex drives differ massively then you can end up arguing a lot about it and gay sex then becomes no fun.
Your partner has a higher sex drive than you
If your partner seems insatiable and wants sex all the time, then you feel pestered and put upon to oblige even if you don't feel like it. This does not make you feel sexy or horny and eventually your partner although being physically satisfied will know you are not that interested, and it will affect their pleasure too.
Your partner has a low sex drive
What if it is the other way around, and you have the higher sex drive and you are horny, and your partner just does not want to know. Perhaps once a week is enough for them – perhaps once a month works just fine for them (eeek!) whatever the situation you feel like you are asking for sex and being continually knocked back, makes you feel unwanted and not sexy at all – and still horny.
Your partner may be the love of your life, he may be amazing in every other way but if you sex drives aren't a match, even asking for sex can drive a wedge between you – so what can you do about it. Obviously the first thing to try is talking about it, the more you can talk about sex to your partner in a normal way the more likely it will be that you can find a solution.
It may be that the type of gay sex you are having with each other is the problem, perhaps one of you like long sexy afternoons full or foreplay and trying lots of naughty things whereas the other just wants lots of quickies. Perhaps one partner likes really kinky sex and the other just likes vanilla – if you can work out what the problem is then there is always a solution to keep your relationship, happy, horny and healthy.
Gay Escorts Help Sex Drive Couples
Gay Escorts have been known to fill this void when everything else in a relationship works well, its just the sex that is a problem. Gay Escorts can be the glue that keeps everything together, by providing extra gay sex for the man that needs it or specialist kinky sex for the man that wants it leaving just loving relationship sex left for the couple. Some couples like to use the same gay escort each time as trust builds or some like to use a different one each time so there can be no attachment issues. Whatever your needs Gay Escorts can really help and you can find the hottest men at sleepyboy.com
These Guys are waiting for your calls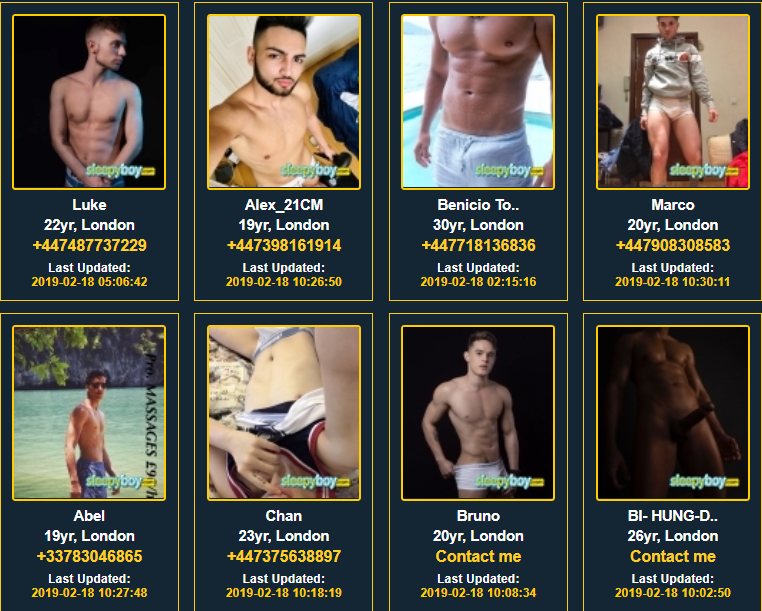 Escort Of the Week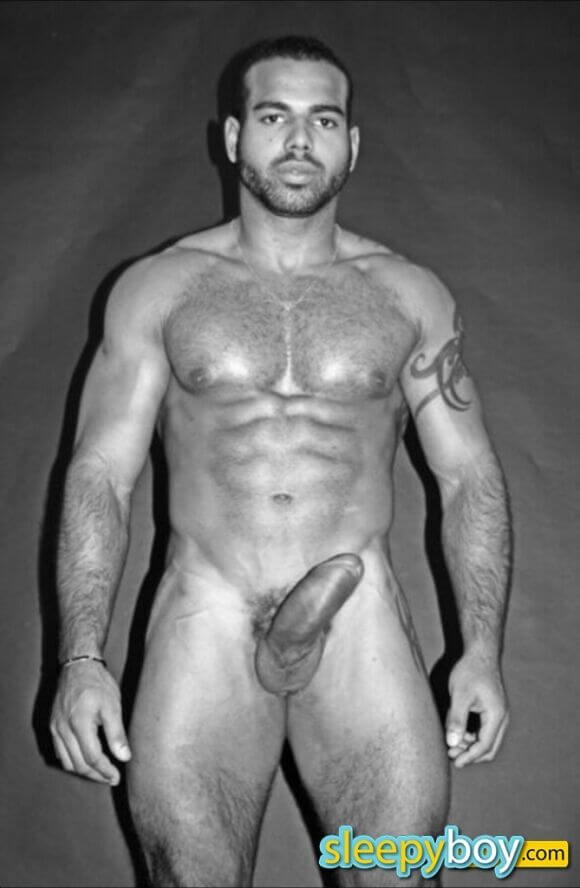 Gay Escort Valentines - The best night you have ever had
Every year Valentine's day comes around and you perhaps are wondering how to make this one memorable. Perhaps it is your first time being free and single on valentines, or perhaps the thought of Valentine's Day makes you very, very horny and you want to have the best sex ever. Romance maybe on your mind and you want to be swept off your feet and be wined, dined and then thoroughly fucked by deliciously handsome man.
Valentine's Day Gay Escort
Whatever your reasons for looking forward to Valentine's Day – we hear you! And we have some great solutions for having the best Valentine's day you have ever experienced. The answer whether you want amazing sex, a romantic evening or a kinky experience is to tell your favourite gay escort what you are looking for and then let them deliver the best Valentine's day you have ever had.
Gay & Single on Valentine's Day
Seeing all the loved-up couples around you on Valentine's day can make you feel like you want to be a little loved up yourself, even if you are (for the rest of the year) happiest being free & single. So, if you are gay and single on Valentines day and want someone to share affection with then a gay escort is most certainly the answer for you. A beautiful man who will adore you for who you are for a whole evening, through the night or weekend and will behave just as you want him too – perfection. You can choose your favourite guy from the sexy men on www.sleepyboy.com and then let him know what your perfect Valentine's date night looks like.
Great Gay Sex on Valentine's Day
Having great sex throughout the year is of course important but it is highlighted every February 14th and if you needed an excuse to make sure you had one great night of sex, then why not make that night Valentine's day. Gay Escorts can accommodate any sexual desire, from relaxed fucking with cuddles and wine to kinky sex games in leather or latex. Whatever your pleasure is a gay escort will be able to ensure you have the best sex ever this valentine's day.
Romance Delivered on Valentine's Day
Romance is certainly not dead and the best gay sex often comes after a romantic date. Valentine's day is a day for making romance the star of the show, and whatever romance means to you, you will be able to have it all if you book time with a gay escort. Sexy, suave and sophisticated the horny gay escorts on sleepyboy.com are experts in making you feel romanced. Whether that is a romantic night out in a fancy restaurant before enjoying a swanky hotel room or just a hand in hand walk around the park before heading back for some serious kinky gay sex. Many of the gay escorts on sleepyboy.com offer a full boyfriend package and all you have to do is ask to be swept off your feet and they will deliver.
Whatever you are doing for Valentines day, you will do it better with a gay escort by your side.
Manchester Pride
Manchester Pride runs from 23rd to 26th of August and is always a fantastic coming together. This year looks bigger and better than ever before. Sleepyboy recommends you buy tickets in advance by visiting the link below. Happy Pride Manchester!
Gay Pride official site - Here Trains to Manchester - Here
MetroLink Trams - Here Hotels for the weekend - Here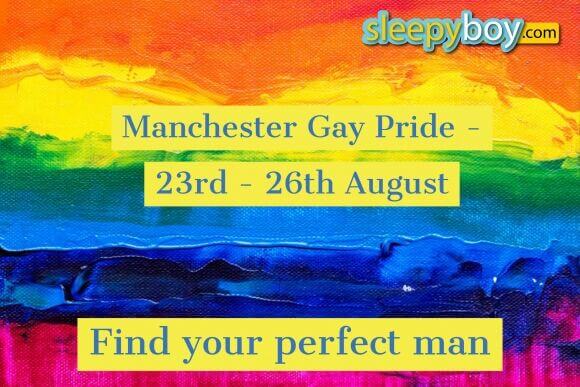 Gay Escorts, Bi-Sexual Escorts & Transgender Escorts in London, Manchester, Leeds, Birmingham & The whole of the UK
A major change has taken place in the last five years, where you can see an increasingly obvious decline of the gay escort in London and the gay escort in the UK. The reason for the decline of the male escort on the streets is the increase of the internets popularity. There are many reasons the gay escort in the UK has moved business online. A bi escort in London can feel more secure and can find far more clients online amongst many other reasons.
With the popularity of the gay escort in the UK and the openness of the gay community, there are many homophobic gangs which harass popular spots where one can find a gay escort in the UK. The same is said for the bi escort in London. Though the bi escort in London isnt gay and doesnt focus only on males, they are often harassed by anyone that disproves of their acts. The internet offers a safer place where both a bi escort in London as well as a gay escort in London can do business without the worry of being harassed or tormented based on their sexual preference.
Also, the bi escort in London can find a lot more business by posting an ad online rather than standing on the street where they once were. The bi escort in London also has a place in many of these online websites. The online world offers many customers that may have been uncomfortable or unable to approach a gay escort in London to do it in a more discreet and secure way. Instead of asking inappropriate questions, especially for first timers, a client can look at what the bi escort in London offers and then contact them for service. When approaching a gay escort in the UK usually happens in a quick manner and the client cannot fully look at them or communicate with them, and the internet provides the client with as much information and images as the client may feel they need.
A male escort can work online in several ways. The most popular is finding a gay escort in London website which offers ads which can be posted. The male escort then creates an ad with pictures, personal information, measurements, services they offer, and prices. This makes the shopping and searching much easier. Once the connection has been made and the male escort and client are in contact they can determine the place and time to meet. From there they male escort gets their payment and its 100% for them. A gay escort in the UK can find ads online anywhere from the very inexpensive to extremely pricey, depending on the traffic in the website.
The other way that a male escort can find work online is through an agent. Very rarely does a gay escort in London actually have a "pimp" as they tend to work alone or with an agency. The agency is a great way for a gay escort in the UK to find business and to keep it consistent. The way it works with an agency is that the client looks through the different pictures and chooses a male escort. Then based on the location, services, image, and personal preferences they choose a gay escort in London. Once they find what they need, they contact the agency and set a time of meeting and location. When the male escort finishes their work and takes the money, they give a percent to the agency and keep the difference and any tips. The percent is determined based on the popularity of the agency.
Thought you can still find a gay escort in London on the streets, there are far less today than there were 5 years ago. The internet has taken over and is controlling the male escort market. Whether through an agent or working on their own, the male escort can do business in a safer and more secure manner online.