The Best Gay Escorts are listed here on Sleepyboy. Search below for Gay Escorts, Bi-Sexual and Transgender Escorts. Search for your favourite Rent Boy or Gay Masseur across the UK. We have Gay Escorts in London, Manchester and all Cities across the UK. Whether you are looking for a date, a Gay Massage or a Sauna Companion search below to find your favourite Rent Boy. This is the best Gay & Bi-Sexual Escort Directory in the UK.
Escorts of the Day
Welcome to Sleepyboy.com
THE UK`S LARGEST INDEPENDENT ESCORT DIRECTORY
NOW SEE ALL ESCORTS PHONE NUMBERS AND PHOTOS FREE
When using an escort site, how many of the escorts are real? how many are still working? and how many sites allow non active escorts to stay on the site even if they stopped working? some sites have over 1000 escorts, but how many can you contact....test it out! try other top sites and you will see ANYONE can say we have 1000 escorts, thats easy, but how many can you contact?
---
If an Escort does not login within 30 days, you will not see the profile
"you know that you can get in touch as we check you can"
Browsing the site is totally FREE or you can view ALL photos and ALL escorts details by joining as a viewer.
For BETTER exposure escorts can upgrade their profiles by signing up and choosing one of the many packages we have on offer Basic, VIP, Silver, Gold & Platinum.
---
Getting a Gay Escort to Come to You
Outcalls is the term used for a gay escort to come to your place for your date. It's a pretty universal phrase and those gay escorts who do outcalls have it listed on their profile, so you know they are willing to come to you. Everyone has different reasons for spending time with a gay escort, apart from the obvious mind-blowing sexual experience, and where you want to meet may differ because of your personal circumstances.
Hotel Meets
A hotel is a great place for meeting up with a gay escort, for many men they are still unable (for a variety of reasons) to tell their family that they are gay, so privacy is paramount when they want to meet a gay escort. Married men and professional men often cannot be seen in the company of a gay escort in public so hotels make the perfect place where you can relax, be private, and be pampered without the fear of being discovered. Hotels can be in your home town, out of town, in another city or even another country!
Gay Escorts & Mobility
If you have a disability or a mobility issue which means you cannot come to see a gay escort, then you can arrange for a gay escort to come and meet your in your home or a place of your choice. If you do have mobility issues or more complex health needs, then a gay escort can visit you in your home to provide a satisfying sexual experience while being in the comfort of your own space and equipment.
Business Meetings
Are you a busy man and need a gay escort to come to you, perhaps you have your own office then having a gay escort come to you is the quickest and easiest way to have an amazing sexual experience in the shortest possible time. Gay Escorts are often available to come on business trips with you and be a companion for you when you are away from home.
Truckers & Gay Escorts
If you drive a truck and know where you will be then you can arrange for a sexy gay escort to meet you at your truck stop for a rendezvous! Great gay sex is often better quick and in your truck, letting you fantasise about the meet all the way to your destination and then remember it until you can hook up again!
Gay Escorts are often available to meet you anywhere you choose, they are also often available at short notice meaning they can be ready for great gay sex whenever you are. Using the search functions on the sleepyboy website you can search for gay escorts near you and those who offer outcalls and those who are available right away. Whatever type of gay escort you are looking for your will find them on www.sleepyboy.com , simply send them a message to see if they can accommodate your request and then be ready to greet them when they arrive at the appointed time and place.
Special Fetishes
Get Over Your Ex with a Gay Escort
Get Over Your Ex with a Gay Escort
Breakups can be liberating, and breakups can be hard. Sometimes they can be both, but however you have left it with your ex-boyfriend there will be some adjustments to your life going forwards. Depending on how long, how passionate or how serious your ex relationship was will depend on how long it takes to adjust and what steps you have to take to get over the ex and the role they played in your life.
Ways to get over your Ex-Boyfriend
If you have just broken up with an ex-boyfriend then here are some quick top tips on surviving the first few days, weeks and months.
Don't call him, text him or message him in any way. It may feel very tempting but once you know it is over, what more is there to say. And most of all don't call him when you have had a few drinks, you never know what you might say!
Spend time with friends – not his friend tho! Spending time with your own friends and being a little sad, lamenting, or angry about your ex is fine. If you have joint friends, or your friends have merged over time be careful about what you say and to whom, as they may repeat it back to your ex – as they are his friends too – perhaps a friend cull is in order to ensure you can separate fully!
Spend time on things that you enjoy. Maybe getting back into your running, starting a new class or picking up that hobby that has been doing nothing for a while is a great way to take your mind away from your ex.
Have an escape plan – If you and your ex still go to many of the same haunts there are a few things you should do. The first is perhaps find some new places to hang out, and the second is to have an escape plan for the inevitable time when you bump into your ex when you are out and about.
Have some great gay sex. One of the best ways to really know that you will be fine in the future is to have some great sex, to remind you there are plenty more fish in the sea, that you are attractive and desirable and gay sex just makes you feel great.
Gay Sex with a Gay Escort
Your first gay sex outing after breaking up with an ex can be potentially complicated. If you have been with your partner for a long time having sex with another man may seem very strange, if he was your first partner then having sex with another man can seem very scary and if you are worried you will never find anyone else to love you then finding a man to have sex with can seem daunting.
Fortunately, the best advice for having sex after a break up is to find a gay escort that makes you horny and then have an amazing sexual experience with them. Having sex with a gay escort avoids the awkward situation of perhaps having sex with someone you and your ex know, or stops you having to try and find someone else to have sex with when you are feeling a little low. A gay escort will make you feel at ease and give you an incredible sexual experience, you will feel wanted and desirable after your time together ready for what you new future is going to be.
Best places for a Spring Gay Massage
The skilled hands of a gay masseuse running his hands all over your body, putting pressure in all thr right places and creating a soothing and truly enjoyable experience is something that every man needs to book into his calendar on a regular basis. If you have been neglecting some personal time of late then spring offer a great break in the year for you to reassess and book in some time that will help you rebalance, reenergize and reinvigorate.
Gay Escorts are often exceptionally skilled gay masseurs. Spring is here and there has never been a better time to try a gay massage from one of the amazing gay escorts listed on sleepyboy.com
Sensual Springtime Gay Massage
Gay Masseurs have been getting better and better over the years, with many of the adopting multiple techniques and using a range of relaxing and sensual massage oils to truly lubricate and relax the whole body before bringing you to a climatic finish. The relaxing nature of the massage and rhythmic kneading of the body, releasing all tension and creating a deep and intense orgasm is what makes these massages so popular.
Where to get a Gay Massage
Thinking of getting a gay massage this Spring? We have some great ideas about where you can start -
Countryside Massage: Getting back to nature is always a good idea and the Sprinig will have some great fresh days where you can get outside. Whether you get a relaxing massage in a park (heading indoors when you need more privacy of course) or have hiked out into the wilds so you ae not disturbed for some real outdoor massage action, having a gay massage in the great outdoors is something you should definitely try.
Poolside Massage: Not something common in the UK, but if you are lucky enough to have access to a private outdoor pool or have rented a private villa with a pool for a spring or Easter holiday then spending time with a gay escort to have a gay massage poolside is very luxurious and relaxing. After you have enjoyed getting your steamy massage you can jump in the pool to cool off.
Gay Massage is so Relaxing
Picnic Massage, as Spring begins to take shape is tempting to grab a picnic blanket, and a boxed lunch and head for somewhere quiet. Privacy for a more intimate gay massage is of course important, but even if it just a relaxing back massage a quiet picnic spot is a great place to enjoy one. Listening to nature and feeling the sun on your back is a most relaxing way to enjoy the services of a skilled gay masseur.
Luxury Hotel Massage: If you are travelling this spring, enhance your holiday or trip, or even in the area where you live with the services of a beautiful gay masseur at your hotel. Hire a lovely suite or hotel room for the evening and make a real event out of your time with the sexy gay escort who will give you the most amazing gay massage you have ever had while being totally relaxed in the luxury surroundings of the hotel you have chosen.
sleepyboy.com loves animal lovers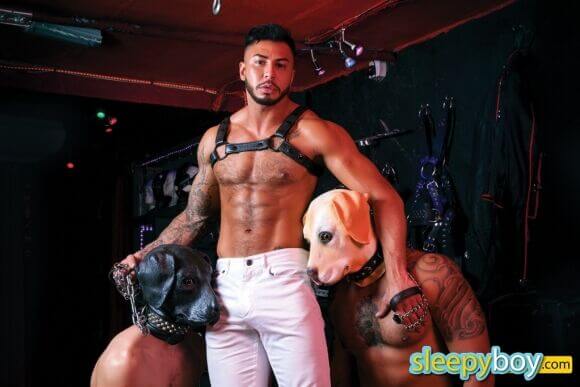 Gay Escorts, Bi-Sexual Escorts & Transgender Escorts in London, Manchester, Leeds, Birmingham & The whole of the UK
A major change has taken place in the last five years, where you can see an increasingly obvious decline of the gay escort in London and the gay escort in the UK. The reason for the decline of the male escort on the streets is the increase of the internets popularity. There are many reasons the gay escort in the UK has moved business online. A bi escort in London can feel more secure and can find far more clients online amongst many other reasons.
With the popularity of the gay escort in the UK and the openness of the gay community, there are many homophobic gangs which harass popular spots where one can find a gay escort in the UK. The same is said for the bi escort in London. Though the bi escort in London isnt gay and doesnt focus only on males, they are often harassed by anyone that disproves of their acts. The internet offers a safer place where both a bi escort in London as well as a gay escort in London can do business without the worry of being harassed or tormented based on their sexual preference.
Also, the bi escort in London can find a lot more business by posting an ad online rather than standing on the street where they once were. The bi escort in London also has a place in many of these online websites. The online world offers many customers that may have been uncomfortable or unable to approach a gay escort in London to do it in a more discreet and secure way. Instead of asking inappropriate questions, especially for first timers, a client can look at what the bi escort in London offers and then contact them for service. When approaching a gay escort in the UK usually happens in a quick manner and the client cannot fully look at them or communicate with them, and the internet provides the client with as much information and images as the client may feel they need.
A male escort can work online in several ways. The most popular is finding a gay escort in London website which offers ads which can be posted. The male escort then creates an ad with pictures, personal information, measurements, services they offer, and prices. This makes the shopping and searching much easier. Once the connection has been made and the male escort and client are in contact they can determine the place and time to meet. From there they male escort gets their payment and its 100% for them. A gay escort in the UK can find ads online anywhere from the very inexpensive to extremely pricey, depending on the traffic in the website.
The other way that a male escort can find work online is through an agent. Very rarely does a gay escort in London actually have a "pimp" as they tend to work alone or with an agency. The agency is a great way for a gay escort in the UK to find business and to keep it consistent. The way it works with an agency is that the client looks through the different pictures and chooses a male escort. Then based on the location, services, image, and personal preferences they choose a gay escort in London. Once they find what they need, they contact the agency and set a time of meeting and location. When the male escort finishes their work and takes the money, they give a percent to the agency and keep the difference and any tips. The percent is determined based on the popularity of the agency.
Thought you can still find a gay escort in London on the streets, there are far less today than there were 5 years ago. The internet has taken over and is controlling the male escort market. Whether through an agent or working on their own, the male escort can do business in a safer and more secure manner online.