Sleepyboy - trying to make things safer for you!
Before any escort can join us and offer service, they must provide official ID held up next to thier face before they even get approved, this is us doing our VERY best to ensure escorts are 18 or older. Although we take this check VERY seriously, please always check ID in person and contact us if you find any issue. We do not tolerate any users under 18 as a social companion and ALWAYS report those who we find are under 18, to the police (2 in 10 years) our checks are regular and vigourous, you should however always check yourself too.
99% of our escorts are great people working hard to be perfect company, but like anywhere else in the world, some scammers are lurking and waiting to take the money and run.
So we have brought in a system that escorts can prove they are real and not using fake photos as part of a deposit fraud. This is not just sleepyboy, it is happening on many many sites! If an escort will not verify himself to us, you must ask why? They would only be showing us that their photos match.
ALWAYS LOOK FOR A VERIFIED ESCORT, it's free to do and easy!
When you see this at the top of a profile - click it....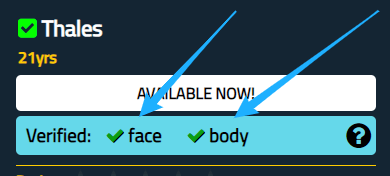 VERIFIED AND MATCHES HIS PHOTOS

HAS NOT YET VERIFIED TO US

DID VERIFY OVER 6 MONTHS AGO AND
MIGHT HAVE CHANGED SINCE
if he is verified and click on the ? you see this ....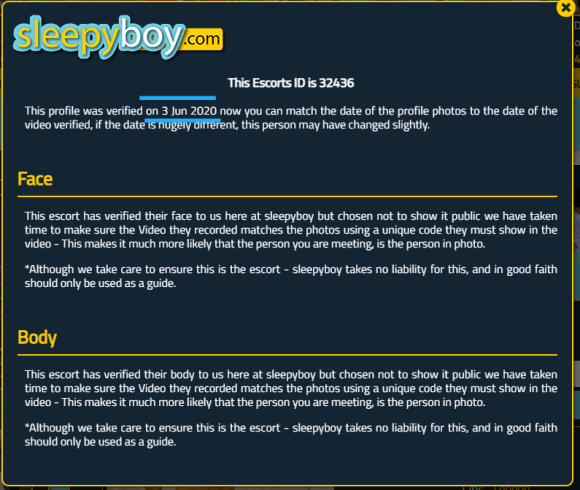 Notice the date their profile was verified - all photos on his profile have a date, so you know if the photo date is before the verify date, we agreed his video "we" saw, matched his photos.
*this is as a guide and cannot guarantee sleepyboy are totally correct or responsible, purely a guide that we THINK they match. We cannot be held liasble if someone does not match, but we are trying our best to stop scammers who use fake photos from taking deposits!
NEVER EVER PAY LARGE DEPOSITS, covering travel is a perfect and small risk, even arrange the transport for them when they agree, most of our escorts here work VERY hard to be the perfect companion but beware that until you meet them they are a stranger to you AND US!